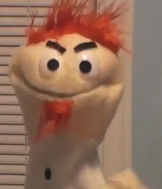 Dr. Necro is Kirk's boss of The Mo Show. He first appeared in the "Lucas and Kirk" episode, "Kirk's Pitch". He also appears in the video "Mo Monster's New Years Party", where his new years resolution is to propose to his girlfriend. His first appearance in The Mo Show was Season 5 Episode 4 where Frank tells a story about Mo. His first appearance on The Mo Show was where he meets Mo with Jean Luc (a frog) and Mo in season 5 episode 4 of The Mo Show
Ad blocker interference detected!
Wikia is a free-to-use site that makes money from advertising. We have a modified experience for viewers using ad blockers

Wikia is not accessible if you've made further modifications. Remove the custom ad blocker rule(s) and the page will load as expected.