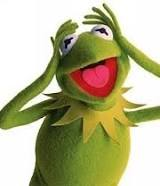 Kermit the Frog is a character from The Muppets and is mostly known as Jim Henson's most famous creation.
Kermit is not from the Mo Show. However, a Kermit replica appears in some videos of The Zing Zongs. His alternate enemy is his lookalike, Constantine. In 2015, he and Miss Piggy broke up and found a new girlfriend, Denise. For more info, go to the Muppet wiki.
Ad blocker interference detected!
Wikia is a free-to-use site that makes money from advertising. We have a modified experience for viewers using ad blockers

Wikia is not accessible if you've made further modifications. Remove the custom ad blocker rule(s) and the page will load as expected.