Max Bugle is a green crazy character with one light green eyelid from The Zing Zongs.
The puppet's eyes have been remade since Season 4 Episode 6 (Christmas Episode) of The Mo Show. It is unknown if this character will come back to The Mo Show or not. Max also parodies Michaelangelo in the Teenage Mo-tant Ninja Monsters (a parody of the Teenage Mutant Ninja Turtles) as seen in season 4 episode 3 of The Mo Show. In a YouTube video, he gets an updated eyelid mechanism and is currently back on The Mo Show.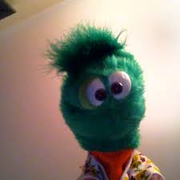 Ad blocker interference detected!
Wikia is a free-to-use site that makes money from advertising. We have a modified experience for viewers using ad blockers

Wikia is not accessible if you've made further modifications. Remove the custom ad blocker rule(s) and the page will load as expected.