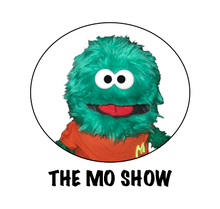 The Mo Show is a YouTube series that was a spin-off of
Tags Time
. The show has been on for five seasons now. The Mo Show started in 2013 and has been seen on
The Zing Zongs
YouTube channel ever since. It's featured everything from comedy to cartoons.
Matt Vogel, John Tartaglia, Lolly Lardpop, Gary Gnu and more have appeared on the program. The cast has even met Sesame Street characters including Oscar the Grouch, Grover, Bert and others. That's kinda' amazing. The cool and funny characters like Mo, Tags, Frank, Jen, Rufus, Leon the Frog and more keep the show alive. The Mo Show is now in it's 5th season.
The sound of Mr. Gibblson's snort is no longer used in the new version of the Season 4 theme song.
In Season 5, the theme song was changed into sort of a remix of the theme. Also the characters are animated, but showing some live action clips of the characters.
The Mo Show's 5th season premiered on November 27th, 2015- 2.8 years (2 years and 8 months) after The Mo Show's premiere.
The third and final episode of Tags Time says that the Mo Show was born after Mo auditions as the new host. However, S5 Ep6 claims that a younger Mo lost to the other Mo (Moe) in a talent show and is promoted by Frank and Jean Luke.